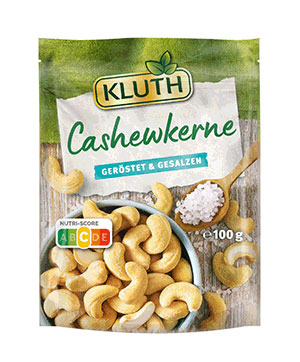 How do nuts become a pleasure?
8 o' clock in the morning, gate 7, goods receipt of cashew nut kernels. A member of our quality control team checks the latest delivery. Visual appearance, smell, consistency, taste – everything must be spot on. The chemical parameters of the goods have been examined in pre-tests at the supplier and are also double-checked by the KLUTH quality control in fixed intervals. Only the best nut kernels are good enough to be worthy of the name KLUTH.

After the passed quality check the nut kernels are packed, stored or forwarded directly to our roasting facilities. Thanks to the perfect balance between temperature and time the nut kernels receive their extra fine aroma in the KLUTH roasting facilities – because at KLUTH we also have highest demands to our roasting process.

Afterwards some nut kernels may be further processed on our state-of-the-art facilities. With a complicated sugar-coating method we combine for instance roasted cashew nut kernels with dried mango pieces and a hint of real vanilla. This way we are capable of realising creative and innovative snack solutions tailored to our customers' needs. Our comprehensive quality management covers the unvaryingly high quality of our products.