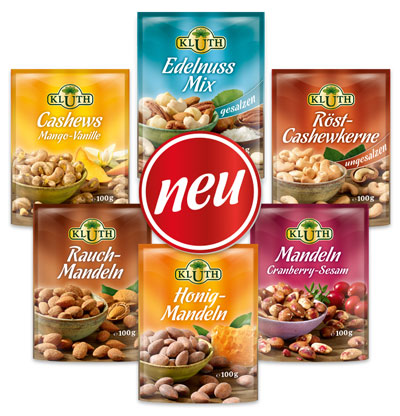 Snacking á la KLUTH
The nut specialist presents the new snack concept and adds colour to the green brand image.

The new look for the KLUTH snack range was already introduced at ANUGA 2017 and ISM 2018. The relaunch adds a strategic realignment for the product range. Every product is receiving an individualised foundation colour that ensures straightforward product identification, perfect appeal to target groups and more impulse purchases.

"Snacking is impulsive", explains Sven Schenkewitz, Marketing Manager at KLUTH: "That's why we are adding rich colours and daintier product presentation to bring fresh new accents to our green brand identity; we are drawing the consumer's attention even more to our exclusive prepared snack products."

The "Gourmet Nut Mix" is a blend of crunchy, salted pecans, macadamia nuts, almonds and cashews and the "Roasted Cashews, unsalted" are two new additions to the snack range.

The current range includes roasted and unsalted nuts as well as savoury and spicy and irresistibly fruity options. All KLUTH snacks continue to be available in practical 100g stand-up sachets with an integrated closure system.
Continue to news overview