Primium Macadamia Nuts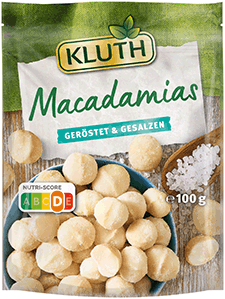 example 125g bag
Quality: Premium Macadamia Nut (Style 1), roasted and salted in Germany (iodized salt)

Origin: Australia

Quality: Style 1: 90 % whole kernels Style 2: 50 %whole kernels Style 3: 15 % whole kernels

Main Areas of Cultivation: Australia, Hawaii, South Africa, Kenya, Central America

The macadamia nut is known throughout the world as an unusually tasty delicacy. The Herbert Kluth Company (GmbH & Co. KG) began importing this product to Germany as early as the 1980s. The Macadamia nut became the youngest member of the nut family in 1857 when it was discovered by John Mac Adam, after whom the nut was named, in the rainforests of Australia.

Not only the taste is extraordinary, also the health advantages of the Macadamias are particularly worth mentioning. 80% of the fat contained in the nut is monounsaturated, making this specialty a healthy delicacy. The Macadamia nut contains more than 80 % of unsaturated fat which is healthy for the heart. Besides this, the nut is a good source of antioxidants, protein and fibre.

Their high individual fat content makes the storage of fresh nuts and the roasting process for other uses difficult. For this reason, the nuts are dried to a water content of 2 % and vacuum packed. It is important that the vacuum chain is interrupted as little as possible, and that the nuts immediately after roasting are vacuum packed again. For this reason, the 150 g vacuum can or the 125 g light protected bag packed under protective atmosphere by Herbert Kluth (GmbH & Co. KG) are optimal and reasonable packagings.