Hazelnutkernels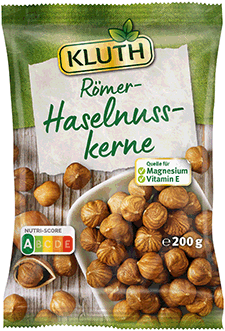 example 200g bag
Quality: round Roman, 14 mm+ or 15 mm+, max. moisture 6 %, sieved, whole kernels

Origin: Italy

Description: Hazelnutkernels

Main Areas of Cultivation: Turkey Mediterranean (Italy, Spain, France) USA

Quality: Italy: round, long Romana, long Neapler Turkey: Levant, Akcakoca Spain: Tarragona USA: Royal, Du Chilly, Barcelona

The hazelnut variety "Romana" from Italy is particularly crunchy, contains little oil and is perfect for snacking. The "Levant" contain more oil and are better for baking.

Hazelnuts from Turkey are more tart and stronger in taste and also rich in oil. Hazelnuts contain a lot of phosphorus, magnesium, potassium, iron as well as vitamins B1-B6, Vitamin C and E. Regular consumption of hazelnuts lowers cholesterol and thus limits the risk for arteriosclerotic diseases. Large quantities of B vitamins play an important role of the nervous system.

Uses:
Hazelnuts are delicious in baked goods, in fruit salads, in sweet and salty salads, in desserts, parfaits and granolas. Additionally they are used in different nut mixtures and in trail mixes.