Hawaii-Mix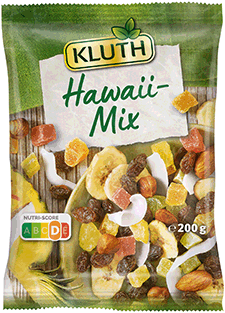 example 200g bag
Origin: several

Description: Tropical fruit mix, dried, sweetend

Ingredients: Raisins, roasted banana chips, hazelnut kernels, papaya and pineapple dices, guava and mango dices, almonds, coconut chips

Naturally, Kluth uses the same high-quality products in its mixes as in its individual products.

For quality and origin of raisins, banana chips, hazelnut kernels, pineapple pieces and almonds please see individual article descriptions.

Uses:
Ideal as an in-between meal snack or as delicious addition to fruit bread.