FITFOOD Snacking Power Mix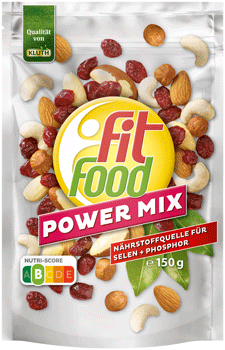 example 150g bag
Discription: Power Mix - with cranberries, nut kernels and almonds

Quality and origin: Please refer to individual product descriptions.

Made from dried cranberries, crunchy nuts and almonds, our tasty Power Mix is ideal for people with an active lifestyle who want to follow a healthy, balanced diet.

Power Mix is full of nut kernels that provide us with essential poly-unsaturated fatty acids which the body cannot produce itself. These help to keep your body fit and in tip-top condition. Naturally rich in Vitamin E, Power Mix supports the immune system. Magnesium is crucial for the body's energy production and the functioning of nerves and muscles.