Almonds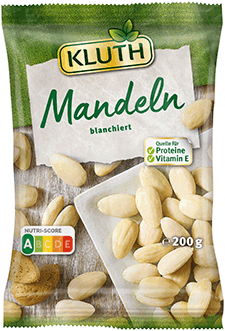 example 200g bag
Quality: Nonpareil Supreme 20/22

Origin: USA (California), Australia

Description: Nonpareil Supreme, Neplus, Carmel, Misson

Main Areas of Cultivation: California, Spain, Portugal, Italy, Greece, Southwest Asia, Australia

Quality:
The almond is cultivated in alternating rows or double rows of the varieties "Nonpareil", "Carmel","Neplus" and "Mission". The grades differ in form, colour and in the process of roasting and skinning. Qualitatively, "Nonpareil" is "the best" of the almonds. It has an attractive form and a uniform size. It is available both in natural (brown) and blanched (white). Additionally, almonds are sold in processed forms (sliced, grated, slivered).

Uses:
The almond is the most-used nut in the kitchen. It is used in desserts, in the production of marzipan and in luxury nut mixes as a snack. Information about the ingredients of each product you can find under www.kluth.com and interesting facts (nutrients or minerals).